亚申高通量系统集成和控制软件HTDMS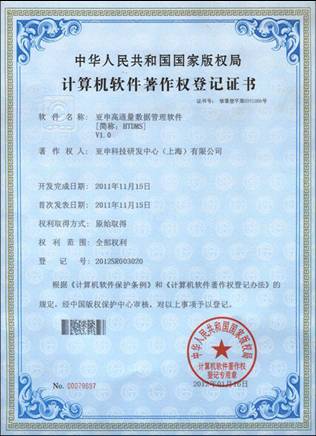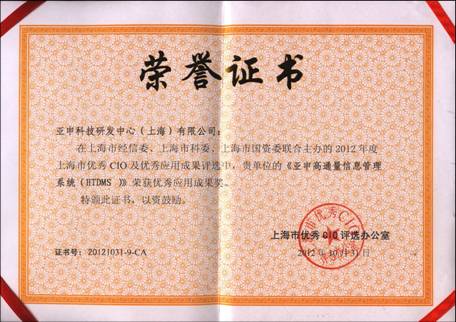 《亚申高通量数据管理软件(HTDMS)V1.0》 证书号:软著登字第0371056号
上海市优秀CIO优秀成果应用奖
YASHEN HIGH THROUGHPUT DATA MANAGEMENT SYSTEM
亚申高通量系统集成与控制软件功能涵盖组分设计、材料制备、催化剂筛选及表征过程运行管理、实验和分析数据集成和管理,是贴合化学及材料研发特点的企业级软件。各种亚申软件产品之间无缝衔接,完全满足高通量研发过程中各种设计、运行和自动化要求。可降低成本、优化日常运行,促进了后期分析和知识探索,并为信息安全和知识产权提供有效保障。
YASHEN HIGH THROUGHPUT Data Management System (HTDMS) is a comprehensive suite of software that is built organically from ground up for high throughput technology in the field of chemical and material research develop­ment. Capabilities include component design, material preparation, process and execution of catalyst screen and characterization, integration and management of diverse experimental and analytical data, and research collaboration worldwide.
1、实验设计软件包(WSF)
Experiment Workflow Service Foundation(WSF)
包括流程设计软件、执行中心。用户使用"工作流"软件设计和自动化实验流程,设置相关参数。基于友好的图形界面,将控制温度、压力、流量、人机交互等操控单元设置在Activity库中,用户按需拖拽组合。执行中心根据设计软件的设计来控制实验的执行,流程过程数据均可自动获取。即使在实验运行任何一个环节暂停/恢复,或根据用户预设事件,调整实验参数,也不会影响数据结果精确性。
WSF includes Experiment Workflow Design Center and Execution Center software. The Design Center software allows users to design and automate the experimental process and setup relevant parameters. The process control units such as temperature, pressure, flow, human-machine interaction are packaged in the software's Activity library. Users assemble a complete experiment workflow by the drag and drop the Activities on the software UI. The Execution Center software controls the execution of the experiment based on a design from the Design Center software. All the data can be automatically acquired during the workflow running. Users can pause / resume at each step of an experiment, or modify parameters while an event occurs,without losing the data accuracy.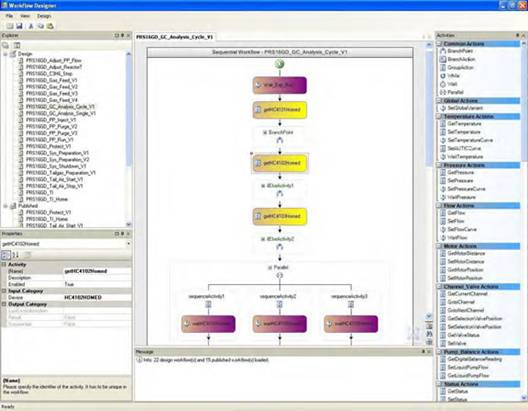 2、设备自动化控制平台(ECCP)
Equipment Common Control Platform(ECCP)
加速研发过程,降低实验和系统控制维护成本。集成了设计、开发、测试、执行、诊断的技术和组件。用于实验系统控制和自动化。
ECCP is a platform that accelerates development process and lowers maintenance cost of experimentation and system control applications. It is a simplified yet powerful tool and an enabling technology for designing, devel­oping, testing, executing, diagnosing, and managing metadata-driven componentized application for experiment automation and laboratory system control.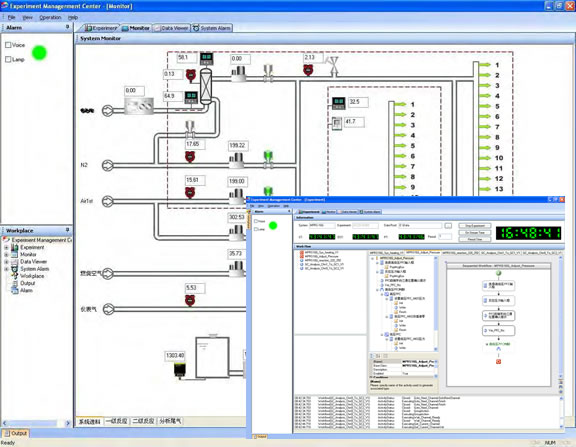 3、数据分析平台(DAS)
Data Analysis Studio (DAS)
旨在令实验平台内部数据和外部数据(分析仪器、用户输入等)整合/或传输、数据浏览和可视化、实验和分析数据的解析以及后续建模过程更便捷快速而设计。集成的分析平台解决了在化学和材料高通量研发过程中数据分析的问题,提供了一系列简单的应用和工具,满足日常研发过程中数据转换、浏览、处理、分析建模、报告生成及报告发布的各种需求。
DAS is integrated analytic infrastructure software designed to facilitate process of data integration and/or trans­formation, data browse and visualization, experimental and analytical data analysis, and advanced modeling. It is designed to solve data analysis problem with the capability that fits the feature and practice of high throughput research and development. It provides an integrated analytic platform and a collection of applications and tools featuring intuitive point-and-click that meet the demanding needs of integrat­ing, transforming, exploring, process­ing, analyzing, modeling, reporting, and publishing research data in day-to-day research activities.